If you are looking for a new way to promote your business that won't cost you more money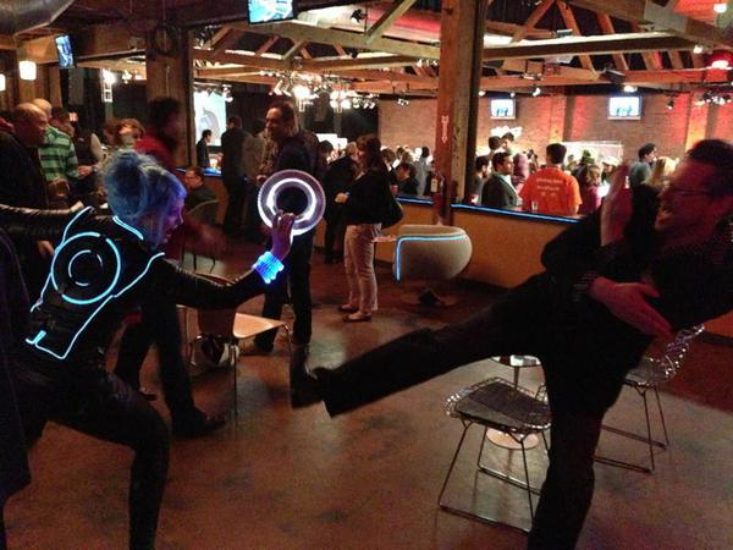 Greetings, Programs! 
Lisa Weeks here, Chief Marketing Officer of Hashbang Games, welcoming you to our shiny new blog! We're super excited about our new site, and look forward to sharing more information from industry experts, updates on our current projects, and reports from the event trenches—be sure to check back often!

If you're familiar with Hashbang Games, you may already know that we are a proud sponsor of the Seattle Game Developers Meetup, and last month we hosted a panel of "game industry Jedi Masters" to answer questions about all the ins-and-outs/ups-and-downs of running an indie studio. Much to my personal surprise and delight, the vast majority of questions from the audience were specifically about marketing! Needless to say, I am already in the midst of coordinating an upcoming panel of "marketing Jedi Masters" as a follow-up event, but in the meantime, I thought I'd gather a few resources based on some of the questions that were raised during the Meetup.
Having been in marketing for the past 20+ years, I've encountered several challenges (and successes!), and I've always enjoyed following the wide array of articles on "teh interwebz" that offer suggestions and anecdotes. As in anything online, there are a lot of extremely helpful and insightful articles, and there are a lot of "meh" articles, written with great INtent, but not necessarily great CONtent ;)
Here are a few of my favorites, hopefully these will give you some fodder to "bake your noodle" before our next Meetup, and you can bring more questions for the panel!
This one is delightfully written from a very creative perspective that offers fantastic insights on the "basic" marketing elements that many people take for granted, and then as a result, are completely overlooked! http://www.gamasutra.com/blogs...
This one goes into great detail on social media and community building tips, written from a developer perspective, which is vastly different from a marketer's perspective! https://gamedevelopment.tutspl...  
Speaking of that developer perspective, here is another one along that same theme, with a ton of great tips on how to write MEANINGFUL copy about your game, which is surprisingly more difficult than you may think!
http://www.theastronauts.com/2...
I relate to this so immensely that I'm going to post a quote here, but I highly encourage you to read the whole article:
"Here's what you would usually find on the developer's website or their Steam Greenlight page:
– Unique and engaging gameplay – Multiple game modes – Fifteen different levels – Dangerous enemies – Robust multiplayer
You think I am exaggerating? Go to Steam Greenlight, click on a few random pages, experience madness.
I mean congratulations, mister developer – you are already better than some devs who slap a Chinese Wall of text on the page, forgetting the invention of paragraphs, let alone bullet points. Still, you are not selling me anything here. You are actually sabotaging your own creation.
Let's start with a simple experiment. If your game is described by the bullet points like these, read them to someone who has never heard about your game before. Wait five minutes and ask them what the game is about. Then wait five more minutes and ask them what was the coolest thing about the game.
This is going to be a very one sided conversation, mind you. To save on time, you may just as well read the bullet points to the chair you're sitting on.
Why?
"Unique and engaging gameplay". This is meaningless. Not just because not many developers exist that would say "Yeah, my game is a clone and the gameplay sucks". But mainly because I, the reader, do not trust you. I don't know you, and even if I did, you're advertising your own stuff, so yeah, "of course" it's "unique and engaging".
When a book has a quote on the cover from Stephen Kings that says, "It's a good, gripping book", okay, I may go for it. It's not his book, he has enough money not to sell his quotes if he does not believe in them, and he's a good writer. But if it were a quote from John Smith, on a book written by John Smith… I mean, do you see how ridiculous that would be?
"Multiple game modes". A lot of games have multiple game modes. Some have fifteen modes in the multiplayer alone. This is nothing special. More importantly, this is, again, meaningless. Maybe you do have multiple modes, and they all suck? It is not unheard of, you know?
"Fifteen different levels". How big are the levels? How much time do I spend in a level? How different exactly are they from one another? If you think I am going to use the "meaningless" word again, you are absolutely right. It's like trying to sell a movie by saying it has ninety scenes. Uhm, great?
"Dangerous enemies". Call me crazy, but I think that most enemies in video games are dangerous. Also, they are kind of expected in a First Person Shooter. You may just as well pimp the fact that your game has a menu.
"Robust multiplayer". And we're back to the question of trust. Also, as a gamer, I am expecting your multiplayer to be "robust", I demand nothing less. Finally, if you think this is the best you can tell me about your game, then I think your game does not really have anything awesome to offer.
So… Yeah."
Sound familiar? It's an easy trap to fall into… the trap of being too close to your product to be able to describe it with enough "value proposition" to convince someone that it is so amazing it will forever change their lives. ;)
Hope this has been helpful, and hope to see you at our next Meetup! For more updates, be sure to join us on Meetup.com: https://www.meetup.com/Seattle... , and follow us on Facebook and Twitter!
_End of Line